Bird records
The China Ornithological Society (COS) collects, compiles and reviews bird records from China mainland and Macao SAR, with support from the Hong Kong Bird Watching Society.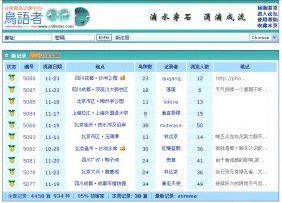 Source of information for bird reports came from ornithologists or birdwatchers in China mainland, as well as from overseas birdwatchers. One of the most important source is the "Birdtalker" record entry system. The "Birdtalker" is an on-line record submission system established by a volunteer in Shanghai which is widely used as a useful tool for bird watching records nowadays.
The complied and vetted record are published in the annual "China Bird Report". The value of this publication lies in the fact that it is a summary of bird records nationwide, based on bird watchers' observations. In addition, the report provides important information on the distribution of birds, which will be of great value to bird watchers, ornithologists and nature reserve staff.
Ways of submission of records:
To obtain a copy of China Bird Report, please contact chinesewildbird@hotmail.com for information. Bird watchers outside China mainland who wish to obtain a copy could contact the Hong Kong Bird Watching Society (hkbws@hkbws.org.hk) for arrangement.