Changzhou Wild Bird Society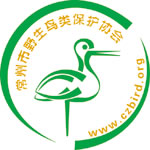 Changzhou Wild Bird Society, which was established on 29th October 2006, is the first green ngo in Changzhou which focuses on wild bird conservation, academic research and environmental education.
Totally 7 management teams have been developed and the number of members has been increasing since its establishment. The Society also receives support from the related government departments in Changzhou city.
Vision:
To promote the idea of bird conservation and the passion to Nature through birdwatching and environmental education.
Aims:
To carry public confidence;
To spread the idea of "watching birds instead of caging birds";
To initiate the public to support the conservation of birds and other wildlife
Main actions:
Wild bird conservation and research, public participation, environmental education
Routines:
Wild bird surveys in the Changzhou area, environmental education and promotion, wild bird conservation and research
Contact information
Website: www.czbird.net
E-mail: czbirds@126.com or qifh55@163.com
Contact person: Mr. Qi Feihong