Anhui Bird Watching Society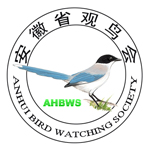 Anhui Bird Watching Society was established by professionals in ornithology, ecology and environmentalology, high school students and environmentalists on 3rd April 2008. It is now a branch of the Anhui Zoological Society and Anhui Wildlife Conservation Association.
Mission:
To facilitate the communication within birdwatchers and promote birdwatching and animal knowledge in the community.
Action:
Organizing birdwatching activities for students and citizens in different places;
Inviting renowned ornithologists Prof. Wang Chishan, Prof. Zhou Lizhi, Dr. Chen Jinyun and Dr. Zhou Bo to give talks for the Society;
Holding bird knowledge talks at schools;
Organizing a birdwatching training workshops for birdwatchers of some environmental societies in high schools
Since the establishment, the Society successfully increased the number of people who love and care about birds through holding talks, trainings and birdwatching activities. The Society also helped to organize other activities such as the "Love Bird Week", birdwatching camps and bird festival in Shengjin Lake.
The Society concerns about the communication with other institutions such as related government departments, nature reserves, high schools, student societies in high schools and some local groups. Anhui Forestry Department, Anhui University, Anhui Zoological Association, Anhui Government, Management Board of Shengjin Lake and Hefei Evening Post have been providing a lot of support to the Society.
Contact information:
Website: www.ngoworld.cn
E-mail: ahbirdsociety@yahoo.com.cn
QQ Group: 64504638